24 May

Where to buy Ford truck accessories online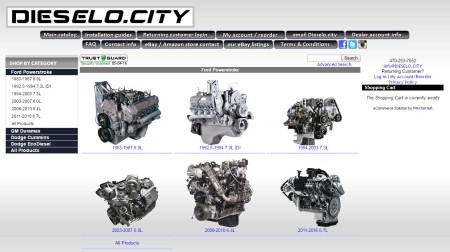 Ford truck accessories aren't always the easiest things to track down. The fact is, finding the right truck accessories often requires you to be something of an automotive detective. Sure, most people who are skilled at repairs and upgrades have connections and know how to work their way to where the right components are located.
But even then, there's no guarantee you will find the Ford truck accessories you're seeking. That's why you need an online resource for your automotive projects. Assuming you love working with diesel engines and you appreciate high-quality customer service and a vast knowledge base about trucks and manufacturers including Ford, GM and Dodge, you've come to the right place.
Types of Ford truck accessories available for sale on the internet
Our website features a variety of truck accessories for Ford models. Whether you're seeking a turbo down pipe or a billet oil cap, you'll be pleased at the selection we offer. Here are several examples of accessories you'll find as you browse our website, along with accompanying details for each.
Accessory: 2003 to 2007 Ford 6.0L Powerstroke Diesel AFE Two-Piece 3.5-Inch Turbo Down Pipe
Price: $199
Description: This aluminized two-piece 3.5-in. down pipe for the 2003 to 2007 6.0-liter Powerstroke Diesel includes a two-bolt flange for use with a stock catalytic converter.
Features: High-performance design includes 3.5-in. mandrel-bent aluminized steel and lower exhaust gas temperatures (EGTs).
Benefits: 30 CFM percent gain, 4 horsepower gain and 12 lb. x ft. torque gain
Accessory:  2003.5 to 2007 Ford Powerstroke 6.0L Billet Oil Cap
Price: $115.99
Description: This billet oil cap is intended for use in the 2003.5 to 2007 Ford Powerstroke 6.0L.
Features: The cap features threaded bung accessory gauges.
Benefits: This truck accessory fits 2003.5 to 2007 Ford F250 to F350 trucks and the Excursion.
Accessory:  2003 to 2007 Ford Powerstroke 6.0L EGR Cooler Delete with Up-Pipe – No Gaskets
Price: $119.99
Description: This product features parts included as shown on our website.
Features: Specialized installation is required, as the 2005 to 2007 Powerstroke requires a programmer.
Benefits: These truck accessories are the perfect fit for—and only legal for use in—off-road competition racing vehicles. They cannot be used on vehicles operated on public streets, roads or highways, and users assume full risk and liability for the product. Complete details are available on our website.
These are just a few examples of the accessories you can find for Ford vehicles and vehicles of other manufacturers online using our website.
More than accessories
Now that you know what you can expect from our selection of Ford accessories for trucks, you should know you also have access to a variety of materials beyond pages of parts and components. In addition to making purchases from our website, you also have the ability to dive deep into any make or model to learn its history and to explore installation requirements in depth.
To access this information, visit our homepage and click the button at the top left-hand corner of the page titled "Installation guides." Once the page loads, assuming you're still interested in learning about Ford parts, click the "Built Ford Tough" image for a dropdown menu of various engine styles from 1983 on, along with photos of each.
Want to learn more about the 2003 to 2007 6.0L engine? Simply click the photo of the engine block or the text beneath it. On the following page, you'll get complete description of the engine's history and the parts that are critical to its functioning. You will also find links beneath this history to various accessories you might need to purchase at some point during your project.
Whether you are actively seeking parts or simply browsing for truck accessories in Cummings Georgia, our extensive selection of products can help meet your needs. Visit Ray's Diesel Performance online or call 470-253-7552 for more information. We look forward to serving you!